3 Bedroom Villa for Sale in Dubai
Are you seeking the epitome of luxury and comfort? Look no further than these remarkable 3-bedroom villas for sale in Dubai. Nestled within the heart of one of the world's most dynamic cities, these properties redefine opulent living.
Unveiling Unrivaled Luxury
Embrace a lifestyle of sophistication as you step into these exclusive 3-bedroom villas. Every inch of these homes is meticulously designed to offer an unparalleled living experience. With spacious interiors that seamlessly blend modern aesthetics with comfort, these villas create the perfect ambiance for families, professionals, or anyone looking for an elevated way of living.
A Sanctuary of Tranquility
Amidst the bustling energy of Dubai, these 3-bedroom villas provide a serene sanctuary to call home. The carefully landscaped surroundings, lush gardens, and private outdoor spaces offer an oasis of tranquility. Whether you seek a peaceful evening with your loved ones or a quiet retreat from city life, these villas cater to your every need.
Exceptional Amenities and Services
Indulge in an array of world-class amenities that cater to your every desire. From state-of-the-art fitness facilities and refreshing swimming pools to 24/7 security and concierge services, these villas ensure a lifestyle of utmost convenience and luxury.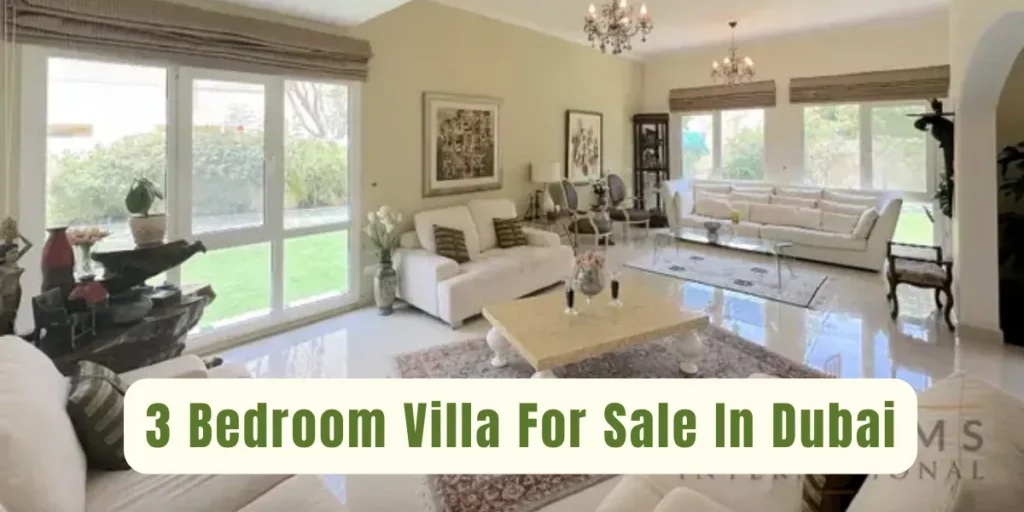 Prime Location, Premium Living
Situated in prime locations across Dubai, these 3-bedroom villas offer more than just a home; they provide a gateway to the city's finest offerings. Enjoy easy access to renowned shopping districts, cultural landmarks, and vibrant entertainment hubs. Every day presents a new opportunity to explore and experience the city's vibrant pulse.
The Ultimate Real Estate Investment
Investing in these 3 Bedroom Villa For Sale In Dubai beyond owning a property; it's an investment in a lifestyle and a legacy. Dubai's real estate market is renowned for its stability and growth, making these villas not only a luxurious residence but also a wise financial choice.
Discover Your Dream Home
Are you ready to embrace a life of luxury? These 3-bedroom villas for sale in Dubai offer an exclusive opportunity to experience the city at its finest. Immerse yourself in opulence, comfort, and convenience like never before. Contact us today to embark on a journey to find your dream home in Dubai.
Owning a 3-bedroom villa in Dubai is more than just a transaction; it's an aspiration. These properties redefine luxury living, offering not only exquisite living spaces but also a gateway to the vibrant and dynamic city of Dubai. If you're seeking a blend of opulence, comfort, and investment potential, these villas provide the perfect answer.
Happy Wedding Anniversary – A Celebration of Love and Togetherness
A wedding anniversary marks another year of shared love, cherished memories, and the promise of a future filled with togetherness. It's a beautiful milestone that reminds us of the journey two people have embarked upon as they build their lives together. Happy Wedding Anniversary Whether it's the first, tenth, or fiftieth anniversary, each one is a testament to the enduring power of love.
May your anniversary be a joyous occasion filled with laughter, heartfelt moments, and the reaffirmation of the bond you share. As you celebrate this special day, take a moment to reflect on the beautiful moments you've created together and the exciting adventures that lie ahead. Happy Anniversary!