Are you looking to enter the lucrative world of real estate in Dubai? With its booming property market, strategic location, and business-friendly policies, starting a real estate business in Dubai can be an excellent investment opportunity. However, navigating the legal requirements and market dynamics can be challenging for newcomers.
To help you get started, we've put together this comprehensive guide on how to start a successful real estate business in Dubai. From understanding the regulatory landscape to finding profitable properties and building your network, we'll cover everything you need to know to launch your venture with confidence. So let's dive into the exciting world of real estate entrepreneurship in one of the most dynamic cities on earth!
What is the real estate business?
The real estate business is the business of buying, selling, or renting land, buildings, or housing. It may also include other activities such as property management, development, and investment. The real estate industry is a vital part of the economy and plays a significant role in the social and environmental fabric of communities.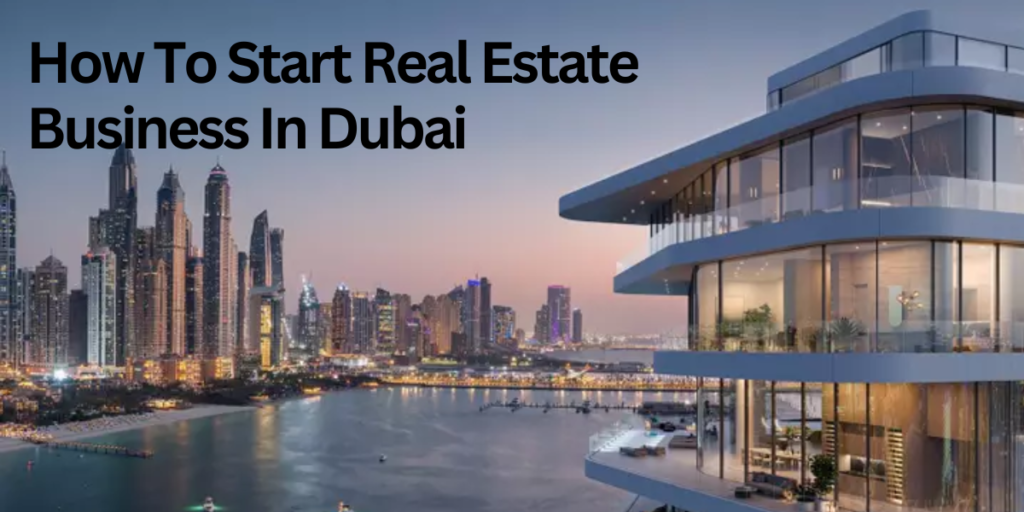 Why Dubai?
There are many reasons to start a real estate business in Dubai. The city is constantly growing and evolving, making it an excellent place to invest in property. The market is also very stable, which provides investors with peace of mind. In addition, there is a strong demand for properties in Dubai, so investors can be confident that they will be able to sell their properties quickly and at a good price.
The process of starting a real estate business in Dubai
The process of starting a real estate business in Dubai is not as difficult as one might think. There are a few key steps that need to be followed in order to ensure a smooth and successful start to your business.
Firstly, it is important to research the Dubai real estate market and understand the different types of properties that are available for sale or rent. This will allow you to identify potential opportunities and plan your business accordingly.
The next step is to obtain the necessary licenses and permits required to operate a real estate business in Dubai. These can be obtained from the Department of Economic Development or the Real Estate Regulatory Agency.
Once you have obtained all the required licenses and permits, you will need to find suitable office space from which to run your business. This can be rented or purchased, depending on your budget and requirements.
The next step is to hire staff who will help you with the day-to-day running of your business. Make sure you carefully screen candidates and only hire those who are experienced and qualified for the job.
Last but not least, you will need to market your business effectively in order to attract clients. There are many ways to do this, such as online marketing, print advertising, and word-of-mouth referrals.
What are the benefits of starting a real estate business in Dubai?
There are many benefits to starting a real estate business in Dubai. The city is home to a rapidly growing economy and a large number of expatriates, making it an ideal place to invest in property. The Dubai government has also introduced a number of initiatives to encourage foreign investment in the real estate sector, including offering residency visas and exempting investors from personal income tax.

In addition, the city offers a wide range of properties for sale or rent, from luxury villas to affordable apartments, making it easy to find the right property for your needs. There is also a strong demand for rental properties, as Dubai is a popular destination for tourists and business travelers alike.

If you are thinking of starting a real estate business in Dubai, there are numerous opportunities available to you. With its strong economy and favorable investment climate, Dubai is the perfect place to launch your business and achieve success.
How To Start Real Estate Business In Dubai
Starting a real estate business in Dubai is no easy feat, but with the right knowledge and information, it can be done. By following these tips and advice, you should have everything you need to get your real estate business up and running in no time. Do your research thoroughly, consult with experts if necessary, create an effective marketing plan to reach potential clients and customers, and secure financing for your venture – then all that's left is to make sure that you stay motivated! With hard work and dedication to success as a Real Estate Business Owner in Dubai, you will find yourself on the way toward achieving great success. More Post Visit.