Choosing the appropriate moving company is essential to ensure a successful and easy relocation because moving may be difficult and stressful. Here are some suggestions to assist you pick the top local moving company if you're moving to Dubai.
Do some research and seek referrals
Research is the first step in selecting a Movers and Packers Company. Request referrals from friends, relatives, and coworkers, or look up reviews and testimonies online. Look for businesses that have received favourable reviews and have a solid reputation in the sector.
The Company's Reputation
You can rest easy knowing that your belongings will be protected if you hire a movers in dubai with a solid reputation and positive customer feedback. To ensure that you are working with the right organisation, it is necessary to check the complaint registers. Additionally, you can get a sense of it by reading Google comments that customers have left outlining their great or negative experiences.
Experience
This is one of the top priorities to take into account before hiring a business. In addition, a long track record shows that they are knowledgeable and will take excellent care of your stuff. Ask about any specialised experiences, such as moving in tall buildings or delivering heavy or fragile objects. Additionally, look into whether they offer services related to relocation. For instance, it would be simple to receive both services in one location if they offered storage facilities. It takes less time and labour on moving day if you move storage items in advance.
The Price
Price and service quality must be contrasted while weighing options. Not all inexpensive services give you the best results. Make sure not to base your decision on a company's price alone; generally, reputable businesses also charge fair prices. To prevent overbilling situations, it would also be preferable if you asked about any additional fees that might be applicable to your situation. It is also crucial to be aware of their cancellation costs and any applicable pricing-related restrictions.
Prior deposits must also be taken into account. Reputable movers shouldn't want a sizable upfront deposit for a typical transfer. However, some movers just need a little deposit, which is reasonable, depending on the size of the relocation. However, the majority of movers will charge you once the job is over. If the business you want to hire wants a sizable upfront deposit, you want to give it some thought before choosing them.
Verify insurance and licences
Make sure the moving company you select is authorised and covered by insurance. All moving businesses must be insured and possess a current trade licence in Dubai. In order to be sure they are reputable and capable of offering your valuables the required safety throughout the transfer, it is crucial to confirm their licencing and insurance.
Obtain Several Estimates
Obtaining numerous quotes from various moving firms is always a smart idea. This will let you compare the services and pricing of several businesses and will give you a general sense of the average cost of the relocation. Get a thorough estimate that covers all the services and costs related to the move.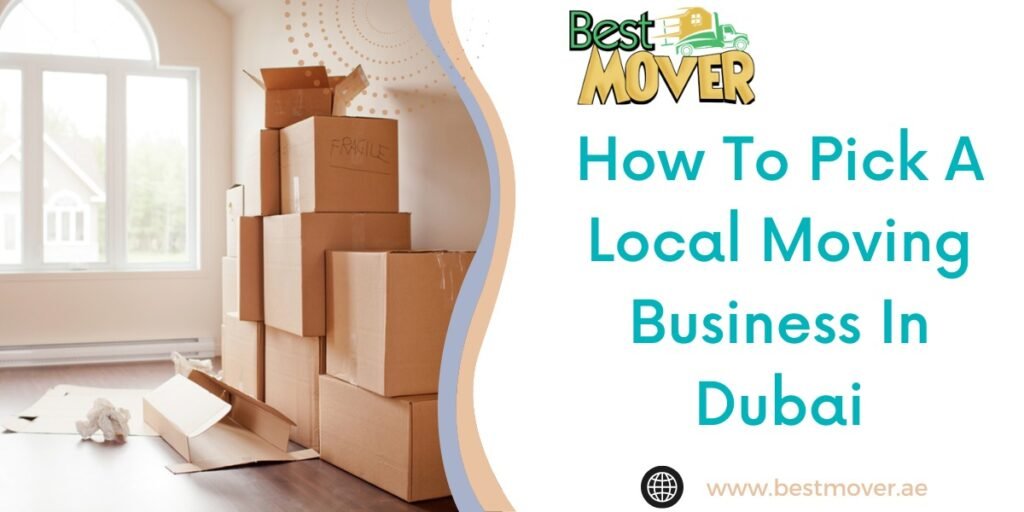 Inquire about background and credentials
Ask the moving company how long they have been in operation and what kind of experience and knowledge they have in the sector. Inquire about their experience moving heavy or fragile things that are similar to your own. This will enable you to evaluate their aptitude for handling your belongings.
Verify your flexibility and availability
Make sure the moving company you select is open on the days you require and can meet any unique needs you may have. It's crucial to assess their adaptability in the event of last-minute modifications or moving-related delays.
Evaluate the Service Quality
To guarantee a successful transfer, a moving company's level of service is crucial. Choose a business that responds to your demands with professionalism, courtesy, and professionalism. Verify their ability to communicate and how they respond to client concerns or challenges.
Look for Supplemental Services
Some movers also provide storage, assembly and disassembly of furniture, as well as packing and unpacking services. You may find these services useful and time and effort-saving. Make sure to enquire about these services' accessibility and cost.
Carefully read the contract
Make sure to read the contract completely and comprehend all the terms and circumstances before you sign one with a moving company. Pay close attention to the cost, the due date, the cancellation policy, and the responsibility and insurance protection. Do not be afraid to clarify anything if you have any doubts or questions.
Select a Local Business
Selecting a local moving company can have a number of benefits, including improved accessibility, experience with the area, and quick response times. Local businesses frequently have a better grasp of the rules and specifications specific to moving in Dubai.
Trust Your Gut Feelings
Finally, when selecting a local moving business, trust your gut. It can be preferable to select a different organisation if you are uneasy or uncertain about a particular one. To guarantee a successful and stress-free transfer, pick a firm you feel confident and at ease working with.
In conclusion, hiring the best local moving company is crucial to a smooth relocation to Dubai. You can locate a professional and trustworthy moving company that can fulfil your demands and give you a stress-free moving experience by using the advice in this article.