Where to Buy HEETS: A Comprehensive Guide
If you're a fan of IQOS and looking for HEETS, you've come to the right place. HEETS are the specially designed tobacco sticks used with IQOS devices. This comprehensive guide will help you find the best places to buy HEETS in 2023. We'll explore both physical stores and online options, ensuring you make an informed choice.
Authorized Retailers
IQOS Boutiques
IQOS boutiques are the official retail stores where you can find HEETS. They offer a wide range of flavors and are known for their knowledgeable staff who can assist with your choices.
Tobacco Shops
Many traditional tobacco shops have become authorized retailers of HEETS. They're conveniently located in various cities, making it easy to find HEETS nearby.
Gas Stations
Some gas stations, particularly larger chains, have started stocking HEETS. It's a convenient option for travelers and those who need HEETS on the go.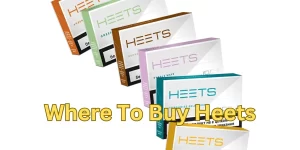 Online Options
IQOS Online Store
The official IQOS online store is a reliable source for HEETS. health  You can browse the complete range of flavors and have them delivered to your doorstep.
E-commerce Platforms
Popular e-commerce websites often have HEETS available through various sellers. Be sure to check the seller's ratings and reviews for a safe purchase.
Duty-Free Shops
Duty-free shops, especially at airports, are a great place to buy HEETS if you're traveling internationally. Prices are often competitive, and the selection can be excellent.
International Considerations
 Buying HEETS in Dubai
If you're specifically looking to buy HEETS in Dubai, you'll find many options. Dubai has an extensive retail network, with HEETS available in malls, convenience stores, and authorized IQOS shops.
Buying HEETS Online
Buying HEETS online in Dubai is also a viable option. Make sure to choose reliable online retailers, as there are regulations in place to ensure the sale of genuine products.
Tips for a Safe Purchase
Check for Authenticity: When buying HEETS, ensure they are authentic products. Look for security features on the packaging to confirm their genuineness.
Read Reviews: If you're buying online, read reviews and check the seller's ratings. A reputable seller is more likely to offer genuine products.
Store Recommendations: Ask for recommendations from other IQOS users or visit official IQOS forums for trusted sellers and stores.
Legal Regulations: Be aware of the legal regulations regarding tobacco products in your area. This includes age restrictions and import/export laws.
Pricing: Compare prices at different retailers to ensure you're getting the best deal.
Buy IQOS 3 Duo in Dubai
Looking for an IQOS device to go with your HEETS in Dubai? You're in luck! The IQOS 3 Duo is readily available in Dubai, both in physical stores and online. Buy IQOS 3 Duo in Dubai The IQOS 3 Duo offers a dual-use experience and is known for its sleek design and improved battery life. You can find it in various colors to match your style.
In conclusion, finding where to buy HEETS is easier than ever, thanks to the growing popularity of IQOS. Whether you prefer physical stores or online shopping, you have plenty of options to choose from. Just remember to follow the tips for a safe purchase and enjoy your IQOS experience.